Sal's Food Center Inc.
Recipes
https://www.salsfoodcenter.com/Recipes/Detail/9024/Baked_Cavatappi_with_Meat_Sauce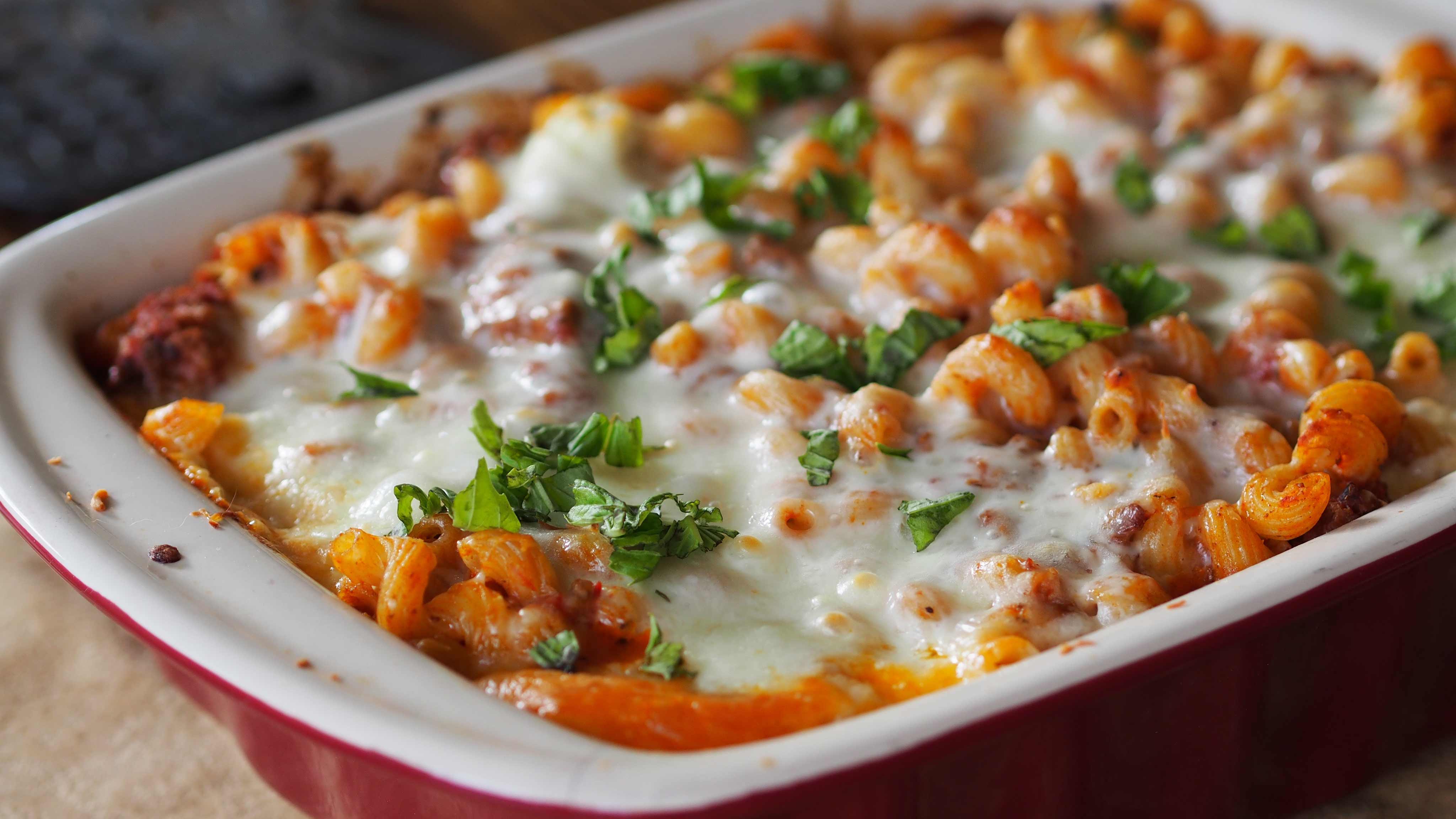 Baked Cavatappi with Meat Sauce
Yield: 8 servings
Preparation Time: 20 min; Cook: 2 hours 45 min
Ingredients
2
tablespoons

olive oil

1
pound

ground beef

1
pound

ground pork

sea salt

freshly ground black pepper

1
large

sweet onion, finely chopped

2

celery stalks, finely chopped

2
whole

carrots, peeled, finely chopped

2
cloves

garlic, finely chopped

2
cans (28 ounce)

whole peeled tomatoes

1
can (6 ounce)

tomato paste

2-3
cups

beef broth

1
tablespoon

brown sugar

2
sprigs

fresh thyme

2

bay leaves

1/4
teaspoon

fennel seeds

1
tablespoon

dried oregano

2
tablespoons

balsamic vinegar

1/4
cup

dry red wine

16
ounces

cavatappi pasta

1 1/2
pound

whole milk mozzarella cheese, shredded

1/2
cup

parmesan cheese, grated

fresh basil, chopped, for garnish
Directions:
In a large saucepan, over medium heat, add the oil. In a mixing bowl, combine the meat and season with salt and pepper. In a separate bowl, add the whole tomatoes and crush with your hand. Add the meat to the saucepan and brown for 4 to 6 minutes, stirring constantly. Add the onions, celery, and carrots; continue to cook and stir for 4 to 5 minutes. Add the garlic and tomatoes and cook for 3 minutes. Whisk in the tomato paste, 2 cups of the beef broth, and brown sugar. Add the thyme, bay leaves, fennel seeds, oregano, basil, balsamic vinegar, and red wine. Mix well. Bring the liquid to a boil then reduce the heat to medium/medium-low and simmer for 2 hours. Stir occasionally and add more liquid if needed. During the last 30 minutes of cooking, season again with salt and pepper.

Preheat oven to 350 degrees F.

In a large pot, cook the cavatappi pasta until al dente. After draining the pasta in a colander, add the pasta back to the pot along with 4 to 6 cups of the prepared meat sauce. Pour mixture into a 9 X 13-inch casserole dish and top with mozzarella and parmesan cheese. Cover casserole dish with aluminum foil and bake in preheated oven for 30 to 40 minutes. Remove foil from dish during the last 10 minutes of cooking time. Before serving, garnish with basil.
Photo and food styling by Webstop
Please note that some ingredients and brands may not be available in every store.
Sal's Food Center Inc.
Recipes
https://www.salsfoodcenter.com/Recipes/Detail/9024/