Sal's Food Center Inc.
Recipes
https://www.salsfoodcenter.com/Recipes/Detail/5113/Cornbread_Fritter_Cakes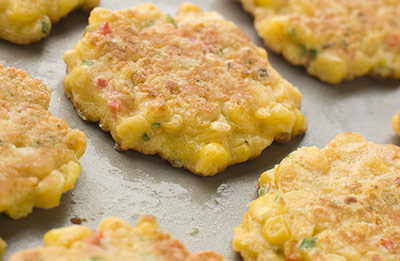 Cornbread Fritter Cakes
Yield: 4 servings
Preparation Time: 10 min; Cook Time: 4 min
Ingredients
1/3
cup

all purpose flour

1/4
teaspoon

baking powder

1/8
teaspoon

salt

1/4
teaspoon

paprika

1

egg, separated

3/4
cup

frozen whole kernel corn, thawed

1
tablespoon

diced red bell pepper

1
tablespoon

diced green bell pepper

Oil for deep fat frying
Directions:
In a large bowl, combine flour, baking powder, salt and paprika.

In another bowl, beat egg yolk; stir in corn and peppers. Add to flour mixture and stir to combine.

Beat egg white until soft peaks form; fold into flour mixture.

In a large frying pan, add enough oil to just cover the bottom of the pan; heat to medium high.

Drop heaping tablespoonfuls of batter into oil and press to flatten. Fry for 3 minutes; flip and continue to fry for one minute longer or until golden brown. Drain on paper towels.

Please note that some ingredients and brands may not be available in every store.
Sal's Food Center Inc.
Recipes
https://www.salsfoodcenter.com/Recipes/Detail/5113/