Sal's Food Center Inc.
Recipes
http://www.salsfoodcenter.com/Recipes/Detail/7996/Creme_Brulee_Cheesecake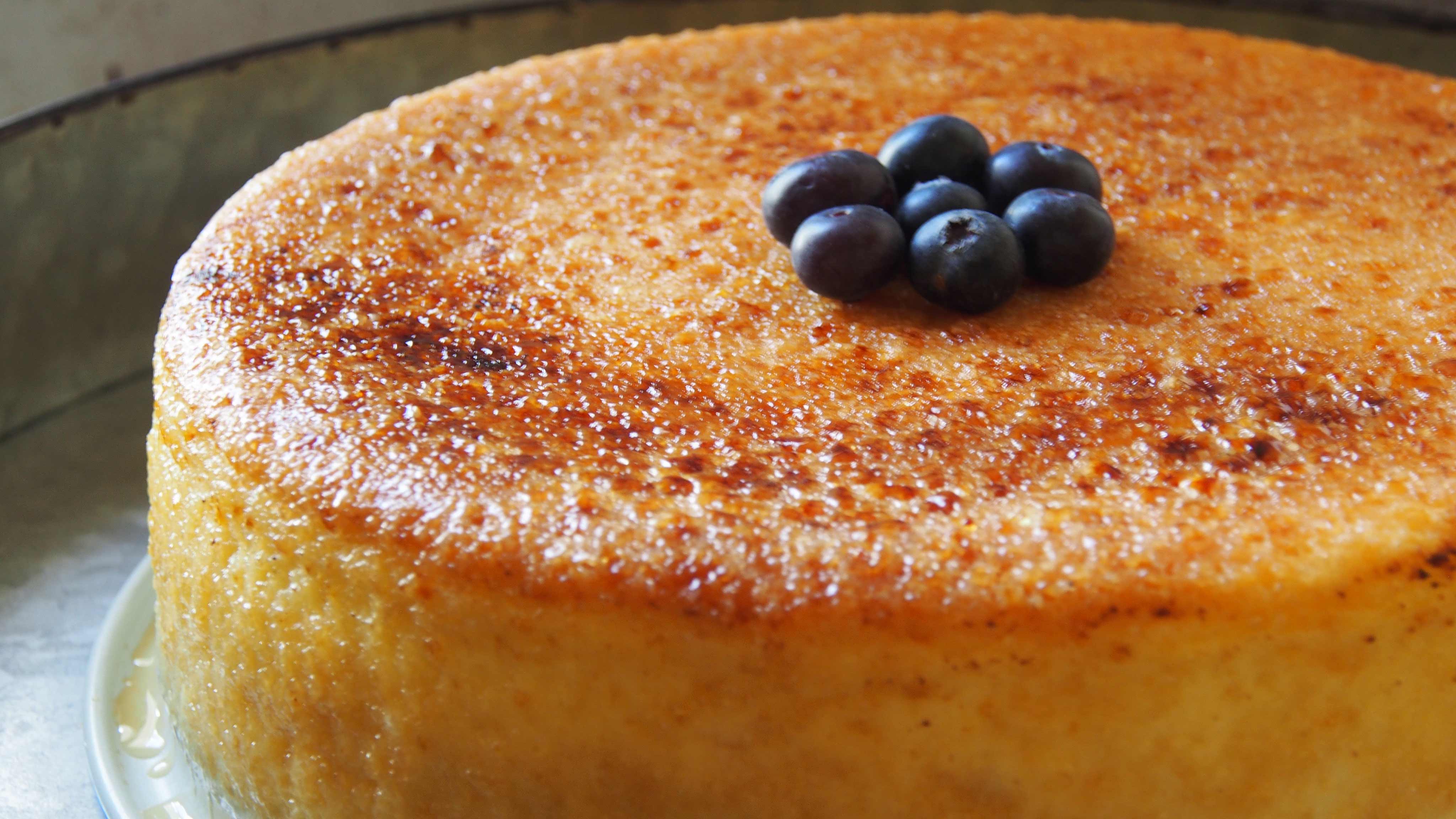 Creme Brulee Cheesecake
Yield: 10 servings
Preparation Time: 20 min; Cook: 1 hr 35 min; Refrigerate: 3 hrs
Ingredients
4
packages

(8 ounces each) cream cheese, room temperature

1/2
cup

granulated sugar

1
tablespoon

vanilla extract

1/4
teaspoon

salt

2
cups

heavy whipping cream

13
large

egg yolks

3
tablespoons

superfine sugar

fresh blueberries, to garnish
Directions:
Preheat the oven to 325 degrees F. Prepare 9-inch springform pan by wrapping in heavy duty aluminum foil with three layers, securing the sides.

In a large bowl or stand mixer, beat the cream cheese for 4 minutes, scraping the sides down to incorporate. Add the sugar, vanilla extract, and salt; beat for another 4 minutes, scraping sides. Meanwhile, add the cream to a small pot on the stove and heat over medium low, heat until it is warm. Do not boil the cream.

Place 13 egg yolks into a mixing bowl and beat the yolks until they are pale. Slowly pour the heated cream, a little at a time, into the mixing bowl with the egg yolks, beating constantly. The eggs must be tempered slowly by the heated cream in order to not curdle the eggs. Once incorporated, slowly pour the egg yolk mixture into the cream cheese mixture and beat on low speed. Scrape down the sides to remove lumps.

Meanwhile, boil a medium-sized pot of water on high heat on the stove. Pour the batter into the foil-wrapped pan and transfer into a large roasting pan. Fill the roasting pan with the boiling water until it reaches halfway up the pan. Carefully transfer the water bath to the oven and bake at 325 for about 1 hour and 35 minutes, or until the cheesecake is mostly set in the center and does not jiggle too much when shaken. Turn off oven and open oven door slightly to let the cheesecake slowly cool to room temperature. When cool, remove from oven and water bath. Remove foil, cover the cheesecake with plastic wrap and refrigerate for at least 3 hours or overnight.

To serve: Remove the plastic wrap and release the spring slowly to remove the sides of the pan from the cheesecake. Very lightly wet the cheesecake with your hand with cold water. Sprinkle about 2 tablespoons of superfine sugar all over the top of the cheesecake and more for the sides. Using a torch, caramelize the sugar. Garnish with fresh blueberries.
Photo and food styling by Webstop
Please note that some ingredients and brands may not be available in every store.
Sal's Food Center Inc.
Recipes
http://www.salsfoodcenter.com/Recipes/Detail/7996/Creme_Brulee_Cheesecake