Sal's Food Center Inc.
Recipes
http://www.salsfoodcenter.com/Recipes/Detail/7150/Alaska_Crab_Tacos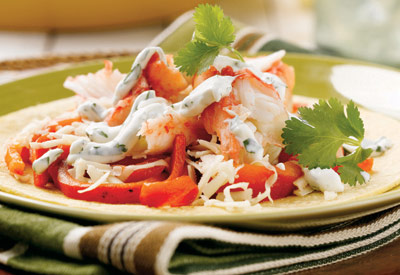 Alaska Crab Tacos
Yield: 4 servings (2 tacos each)
Preparation Time: 15 min; Cook Time: 10 min
Ingredients
12 to 16
ounces

Alaska Crabmeat (from 2 to 3 pounds of Alaska King, Snow or Dungeness crab)

4

red bell peppers OR 10 to 12 ounces bottled roasted red peppers

1
cup

sour cream OR Mexican crema

1/2
cup

fresh cilantro, chopped

2
teaspoons

lime juice

2
cups

grated Monterey Jack cheese OR Queso Oaxaca cheese

1
package

(8 count, 6- inch) tortillas, warmed

Favorite hot sauce, if desired
Nutrition Facts
Yield: 4 servings (2 tacos each)
Approximate Nutrient Content per serving:
Calories:
622
Calories From Fat:
297
Total Fat:
33g
Saturated Fat:
18g
Sodium:
1130mg
Total Carbohydrates:
40g
Dietary Fiber:
4g
Protein:
42g
Based on 2 tacos. Calcium 613mg, Omega-3 fatty acids 530mg
Directions:
Rinse frozen Alaska Crab legs under cold running water to remove any ice glaze; pat dry with paper towels. Discard towels. Steam or boil frozen crab in a large pot for 6 to 8 minutes, until heated through. When cool, use kitchen shears to cut the shells open and remove crabmeat. Chop or shred meat, if desired.

Over an open flame (grill or cooktop), roast bell peppers until blackened. Cool slightly; rub off skin with a paper towel (or place in a paper bag for 5 minutes for skin to soften). Seed and thinly slice peppers.

Mix sour cream, cilantro and lime juice together in a small bowl; set aside.

To serve, divide red pepper strips, cheese and crabmeat between tortillas. Top with 2 tablespoons sour cream mixture. Serve with your favorite hot sauce, if desired.
Cook's Tip: Alaska Crab is already fully cooked, so thawed crab legs may be shelled without steaming or boiling.

Recipes and Images provided by Alaska Seafood


Please note that some ingredients and brands may not be available in every store.
Sal's Food Center Inc. Recipes
http://www.salsfoodcenter.com/Recipes/Detail/7150/Alaska_Crab_Tacos