Sal's Food Center Inc.
Recipes
http://www.salsfoodcenter.com/Recipes/Detail/5708/Apricot_Almond_Macaroons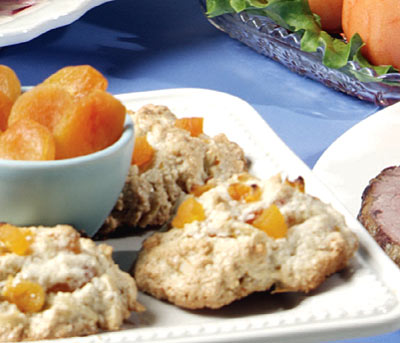 Apricot Almond Macaroons
For your Passover Celebration

A Kosher recipe
Yield: 16 cookies
Ingredients
2
Tablespoons

matzo cake meal

3/4
cup

whole blanched almonds

3/4
cup

matzo cake meal

3/4
cup

Paskez Kosher for Passover sugar

1/2
cup

dried apricots

1
teaspoon

freshly grated orange peel

1/4
teaspoon

almond extract

3

large egg whites
Directions:
Preheat oven to 325 F. Line baking sheets for Kosher for Passover (Reynold's) parchment paper. Sprinkle with 2 Tablespoons matzo cake meal.

In a food processor, pulse blanched almonds 3 to 4 times, or until coarsely chopped. Spoon matzo cake meal, sugar, dried apricots, orange zest, almond extract and egg whites into processor. Pulse 3 to 4 times or until just combined.

Mixture will be sticky. Dust hands with cake meal. Divide dough into 16 portions. Roll into balls pinching tops to make small peaks. Place on prepared baking sheets. Bake 20 minutes or until lightly browned. Cool completely on wire racks.

Please note that some ingredients and brands may not be available in every store.
Sal's Food Center Inc.
Recipes
http://www.salsfoodcenter.com/Recipes/Detail/5708/Apricot_Almond_Macaroons